Membership in Pella Cycling Club
Don't miss the fun!
Download the Membership Application and Waiver in PDF format and join us. Members pay annual dues, which run the calendar year, January 1 to December 31. $20/individual; $25/family.
Show 'n Go Rides
from mid April - Oct.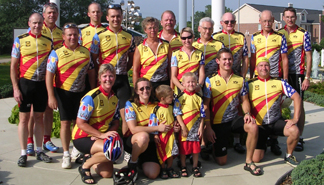 Tuesdays, April - August at 6 p.m., September and October at 5:30 p.m.;
Volksweg Trailhead, University & W. 5th, Pella; ride the trail.
Saturdays
, 7:30 a.m. Volksweg Trailhead, University & W. 5th, Pella; road ride to an area town. Mileage varies from 30 miles (early season) to 60-plus miles (training for RAGBRAI).
Ride Ratings
For each Show 'n Go on Volksweg Trail, you'll find our members grouping according to their own riding abilities in the categories below. A Ride Leader will be chosen at the Show 'n Go, who will 1) Set the pace, 2) Regroup as needed, and 3) Make sure NO ONE is dropped.
Leisure 10-13 mph. Leisurely, easy pace allows riders to visit while riding. Some riding skills required. Waits for slower riders. Regroups occasionally, usually after a hard hill or just before a route change. Some recommended stops: Howell Station, top of North Overlook Hill, Wallashuck (possible turn around point) and Fifield.
Mid Pace 13-16 mph. Good rider. Social pace. Regroups every 30-45 minutes. Waits for slowest riders when regrouping.
Brisk Pace 16-19 mph. Requires experienced riders. Regroups roughly every hour or so. Requires occasional pace line riding.
Membership Benefits
Regular club meetings: Motivating guest speakers, forum for new topics of discussion, etc.
A cycling community: Seek support and riding buddies from members who have a wide range of abilities and interests. Promote cycling in Pella and surrounding areas.
RAGBRAI charter: group transportation available for RAGBRAI and any other group rides as needed.
Other Interests
Family Oriented
Several times each year, we promote cycling for children and families by participating in bike safety checks and helmet fitting at Howell Station, Thursday Nights in Pella, and local schools.