Home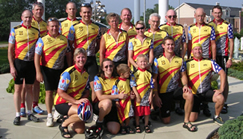 We welcome new members who share our love of bicycling as we explore the trails and low-traffic roads in the Pella area. We enjoy the outdoors, healthy exercise, and having a good time together!
If you're a visitor, don't hesitate to call or email. You're invited to join us on one of our Show 'n Go rides.
Tour de Rock
Tour de Rock, our club's classic ride held in the fall is a 50-60 mile ride which showcases the Lake Red Rock Area. Date will be posted on Bike Iowa.
Download the 2014 Membership Application.